Old and New!  Where else can you see a 1991 vintage circuit breaker next to a 1940's vintage circuit breaker breaker?  Shown in photos are a 1991 Westinghouse 150VCP-W500 sitting on our shelves next to a couple of 1940's Air Blast Allis Chalmers type AB 7.5… really old stuff.
Click to view our Westinghouse 150VCP-W500 data sheet.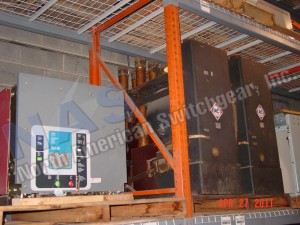 Call : 800-909-3660   Email: sales@naswgr.com  Click: www.naswgr.com for more information.