Want to know why we High-Pot Vacuum breakers when they come in for stock? Because NAS wants to ensure our breakers will operate before we offer them to you.
Example, we just purchased a large amount of GE VB 13.8-750-1 circuit breakers. We know they will sell quickly and sometimes customers need them to ship the same day. If you are buying as-is, cleaned & tested or reconditioned NAS' technicians always test our breakers before they leave. Why sell a breaker as-is to a service shop with a bad bottle? It does not happen here at North American Switchgear.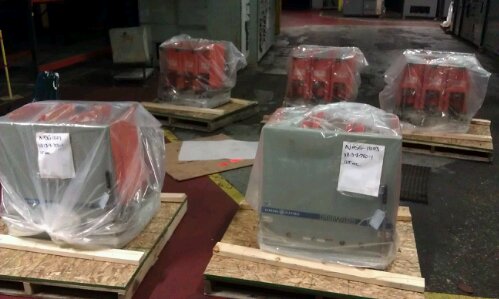 Time is money and NAS makes sure we do not have to pull down a handfull of breakers that need to be High-Potted to see which one is ok to ship. Our expert staff makes sure our database is updated so we can give you fast answers.
Circuit breaker vacuum bottles are not always laying on vendors shelves. Since they are turning into a hard to find item we cut to the chase right away and test them before they hit our shelf.
There are lots of procedures that we follow when items come in for sale. This is just one of many that NAS does on a daily bases that ensures You, the customer can have peace of mind buying equipment from us.
The above breakers vacuum bottle failed, NAS management will determine if we will part out the breaker or put a tested bottle back into the phase. Either way, our customer will be happy if they purchase a part or the whole item.
Once one or more of our GE VB13.8-750 vacuum circuit breakers is purchased we will repeat all testing procedures and provide a detailed report.
NAS is proud of our procedures and I know that our customers appreciate our detail.
If you have not tried NAS as of yet give a call or put us on your next request for bid. With 300,000 square feet on 9 acres and a state of the art reconditioning facility I am sure we can be helpful with your needs.
Thanks for reading!
Www.naswgr.com
Www.naswgr-store.com
Sales@naswgr.com
800-909-3660
216-402-0507 24-7 emergency
Twitter @naswgr