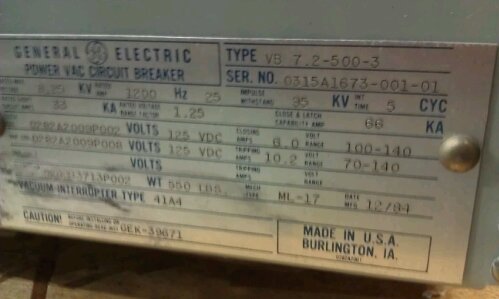 NAS just reconditioned (2) GE VB 7.2-500-3 vacuum circuit breakers.
1200 amp
5kV
Close coil- 0282A2009P002 125vDC
Trip coil- 0282A2009P008 125vDC
ML-17 mechanism
Max voltage- 8.25kV
Vacuum interrupter type- 41A4
Connection Diagram- 0209B3713P002
Both breakers look fantastic and our customer will be pleased with their reconditioned GE VB7.2-500 vacuum circuit breakers.
For more information on North American Switchgear Inc. And our services please visit www.naswgr.com
Www.naswgr-store.com
Twitter @naswgr
Sales@naswgr.com
800-909-3660
216-402-0507
GE VB circuit breakers at North American Switchgear, Inc.
NAS "Super Shop"
http://www.naswgr.com/Circuit_Breaker_Pages/General_Electric/General_Electric_Home.html
Thanks for reading!