Someone was down last night and needed an LKD-8 air circuit breaker. They utilized my 24-7 emergency hotline and asked for the following.
BBC / Gould / ABB
LKD-8
Manually Operated
Drawout
Low voltage power circuit breaker
800 amp
600 volt
3 pole
120vAC shunt trip
LS4 solid state trip unit LSG functions 611250-T14
401736-K5 Current Transformers 800 amp
L3 auxiliary switch 712210-T1
Anti-Single Phase Device 713049-K1
Fuses – Gould Shawmut AmpTrap K-DON fuses Form 480 A4BY1200 current limiting fuses
Tested, Cleaned and Ready for Service
Backed by our 1 year warranty
Another Happy Customer.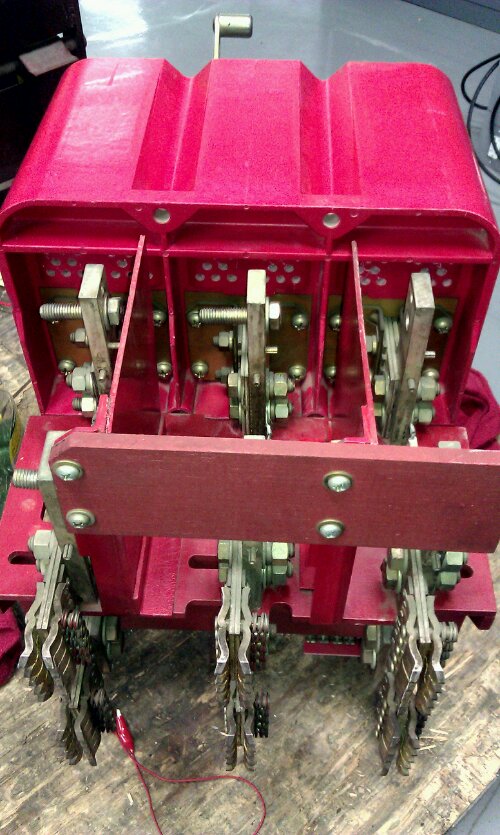 After we accessed our database from home we determined while on the phone with our customer which breaker would be used. North American Switchgear, Inc has an enormous database that is current and updated daily. This enabled us to provide the customer with accurate information.
After we spoke we hightailed into our facility to get the above breaker ready for service. LKD-8 circuit breakers are not a wipe down operate the mech and ship type of breaker. NAS puts all of our breakers through the whole gammit.
LKD-8 air circuit breakers are known for having possible mech issues and not surprisingly we performed some troubleshooting to get it ready for service. We not only meggered, ductored and primary injected the breaker, we also tested the anti-single phase device, the shunt trip, tested the fuses, the LS4 trip unit and perfomed other standard tests as well as cleaned the breaker. The LKD-8 mechanisms are very tricky but the expert breaker technicians at NAS know this is not their first rodeo. Our tech's can run through these breakers like Jim Brown ran through defenses in the 1960's.
For more information on our service shop please visit our homepage at www.naswgr.com
Ask about our recondition swapout program.
Want to purchase items online? Lock www.naswgr-store.com into your favorites.
Please lock my cell phone number into your phone 216-402-0507
Thanks for visiting and reading our blog
Michael Habeeb
National Sales Representative
North American Switchgear
(The Brains of NAS to my Right, Kristen)
Update- Delivered….