Not everyone utilizes the words "Recondition" the same way. That is why it is important for you to ask if a quoted recondition means a complete overhaul top to bottom.
Do not get me wrong, we sell Cleaned & Tested and as-is (E-OK) circuit breakers daily. We are just very specific to how we word our descriptions.
The following pictures are what Family owned and operated North American Switchgear, Inc. considers our Class A Recondition.
GE AM13.8-1000-4H Circuit Breaker
1200 amp
15kV
800-909-3660 toll free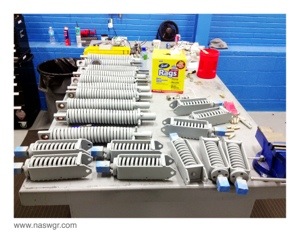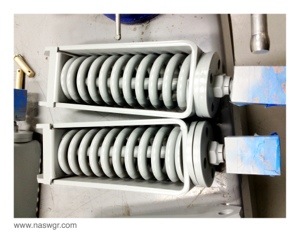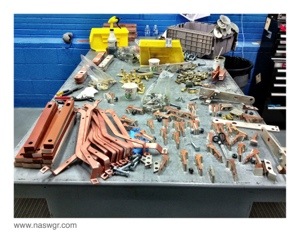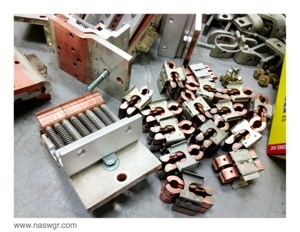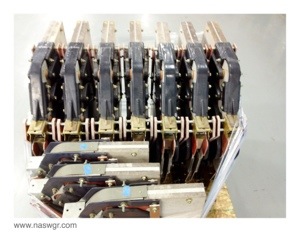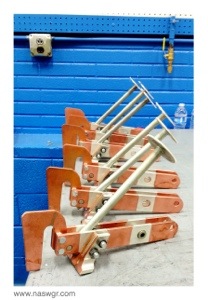 As you can see so far these breakers are completely stripped down and now we will reassemble the re-plated, cleaned and inspected components back on the breakers…..After the frames have been professionally painted with our special mix.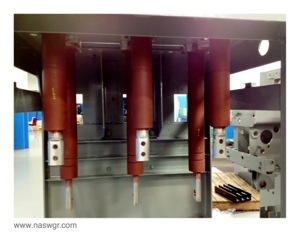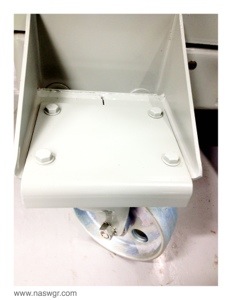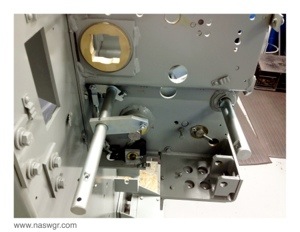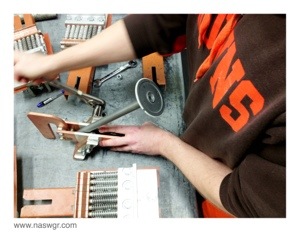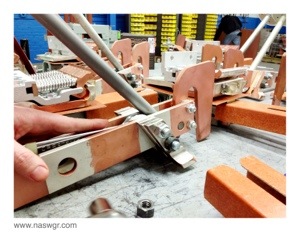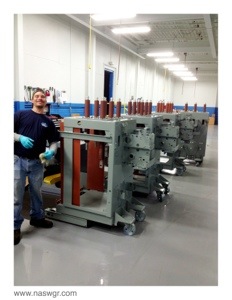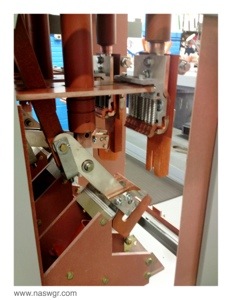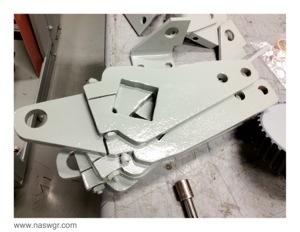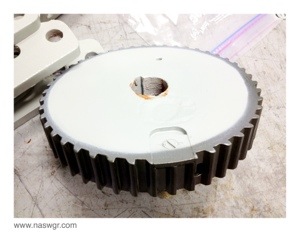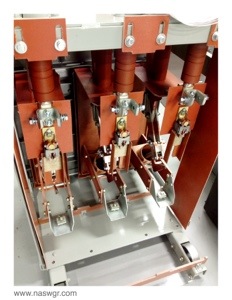 As you can see everything is taken apart and reassembled perfectly. NAS has been a world leader in reconditioning for over 33 years.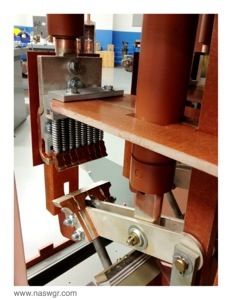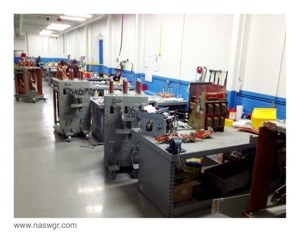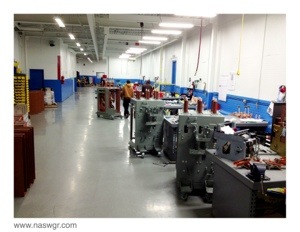 Our "Super Shop" can handle any amount of reconditions. We built it from the ground up and have no qualms showing you "The Client" that your breakers are being worked on in one of the most professional state of the art environments in the industry. Our standards are strict as they should be.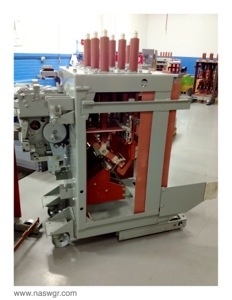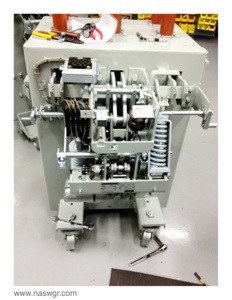 * It is extremely important to have your breakers reconditioned by a professional organization*
But remember, if someone is working on your breakers are they able to disassemble them to lubricate them properly? There are spots on breakers that need lubrication and you have to take them apart in order to get to those specific components.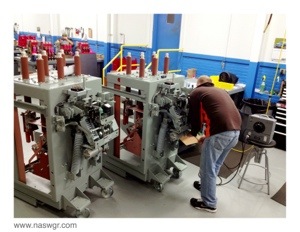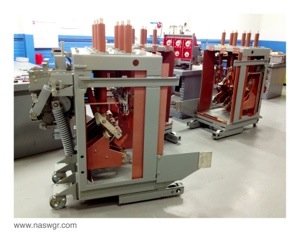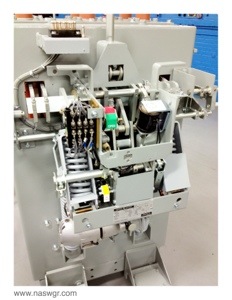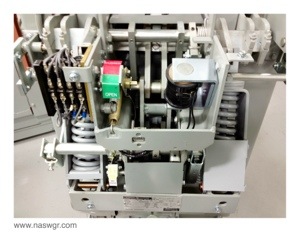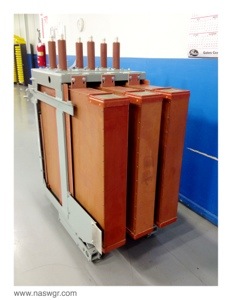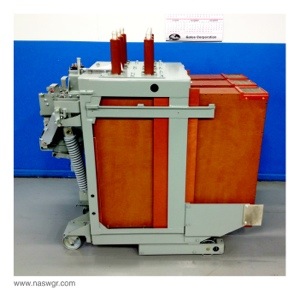 So much goes into this, it is not easy but we have it down to a science. Testing, inspecting and trouble shooting is a daily routine as we reassemble our low and medium voltage circuit breakers.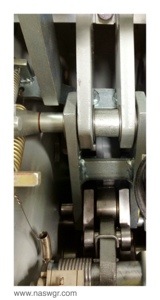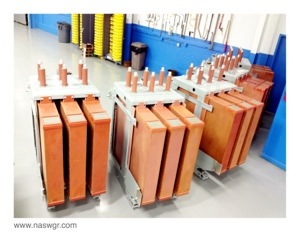 Family owned and operated North American Switchgear, Inc.
We are a proud family putting out top notch reconditioned circuit breakers.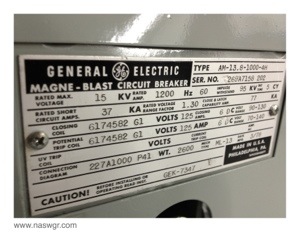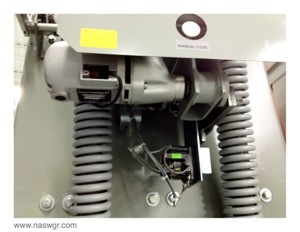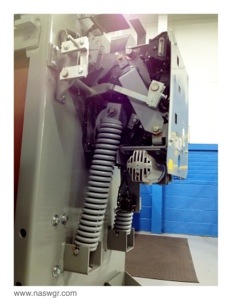 Magneblast motors need to go through a rigorous test and trust me, we scrutinize them before they get mounted on one of our Class A Reconditions.
.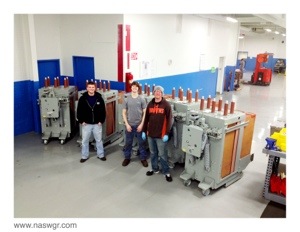 It takes more than one set of eyes and hands to perform extremely important work. Our team works together as a family to make every piece of equipment leave our 300,000 square foot facilities with confidence.
GE AM13.8-1000-4H circuit breakers at NAS

300,000 square feet
9 acres
7000 square foot reconditioning facility
2,000,000 loose parts
10,800+ low and medium voltage air, vacuum circuit breakers and contactors
Hundreds of sections of metal clad switchgear
24/7 emergency hotline- 216-402-0507
Low voltage MCC's
Thousands of molded case circuit breakers
Fuses Fuses and more Fuses
Solid state kits
Relays- digital and mechanical
Potential Transformers
Current Transformers
Control Power Transformers
480-15kV Switches
NON COMMISSION SALES!
www.naswgr-store.com we are adding daily (all new)
Twitter-@naswgr
Visit www.youtube.com and type in naswgr to view our videos.
Please contact our sales department for your site visit and tour. Our doors are open to all. If you would like our National Sales Representative to visit your facility please email michaelh@naswgr.com for a future appointment.
Thank you very much for reading our blog.
I would like to end this by saying something.
These style breakers were built by the folks who served in WWII, Korea and Vietnam. This is old American products, the products that were built to last. If you have it reconditioned properly what's saying it won't last you another 20-30 years if maintained properly?
Keep your extra budget dollars in your pocket by putting us on your next request for quote.
GE Magneblast AM13.8-1000-4H