NAS just received the following for inventory.
Quantity (26)
Siemens Allis MA-350C1 circuit breakers
1200 amp
5kV
The breakers are all in good condition and are available as-is or reconditioned.
Loose MA-350C1 parts are available as well.
800-909-3660 toll free
216-402-0507 24-7
Email- sales@naswgr.com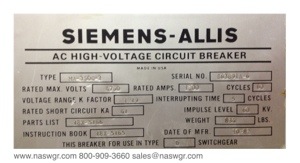 North American Switchgear, Inc.
Family owned and operated for over 33 years.
300,000 square feet on 9 acres
11,000 low and medium voltage air, vacuum and insulated case circuit breakers
Hundreds of sections of metal clad switchgear
Over 2,000,000 loose parts ready to ship
Molded case circuit breakers
Switches 480 volt to 15kV
Contactors 480 volt and up
Thousands of fuses
Solid State Trip Units
PT's – CT's – CPT's (thousands)
Call or email is on all of your 480 volt to 15kV circuit breakers, switchgear and associated parts.
7,000 square foot reconditioning facility