NAS owns all the different vintages for DS style circuit breakers. We have so many loose parts. Basically, we are your one stop shop for any and all of your DS circuit breaker needs.
Click here to view our Square D DS-416 web page
Click here to view all of the different style DS circuit breakers
Below are some Square D DS415 breakers
Square D DS-416 circuit breaker
Manually operated
Drawout
1600 amp frame
600 volt
3 pole
Square D Amptector 1A LSIG
Each used Square D DS-416 air framed power circuit breaker is available as-is or reconditioned.
Ask about our "Recondition Swapout Program".
800-909-3660 toll free
Email- sales@naswgr.com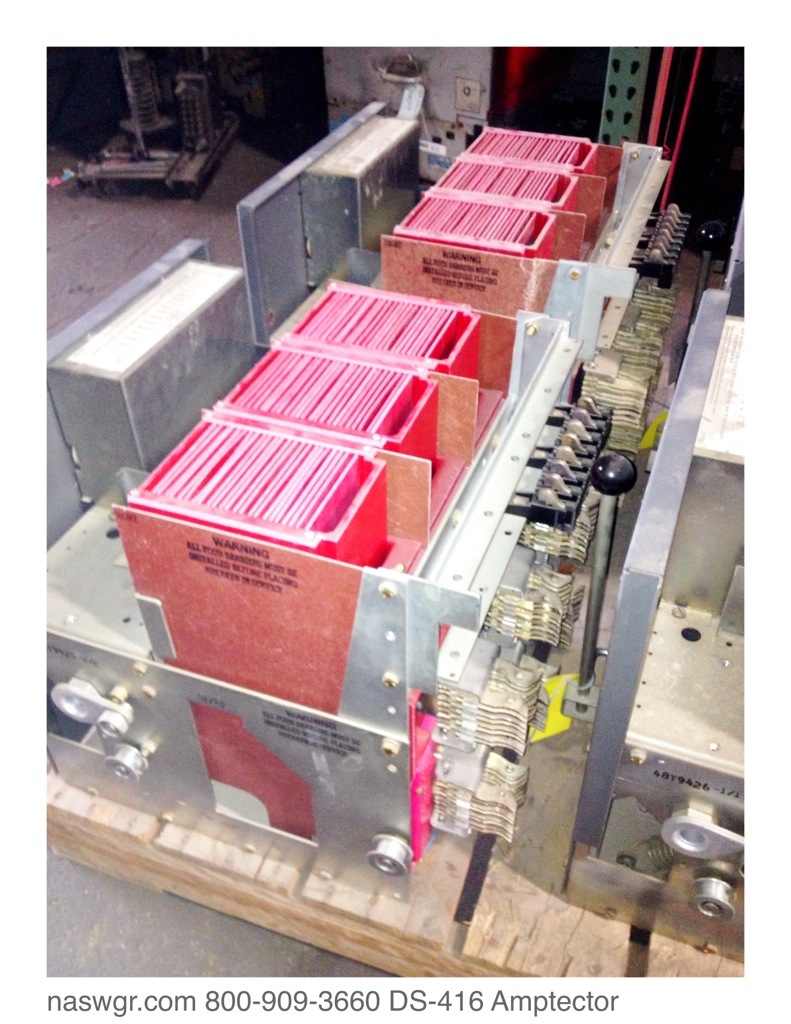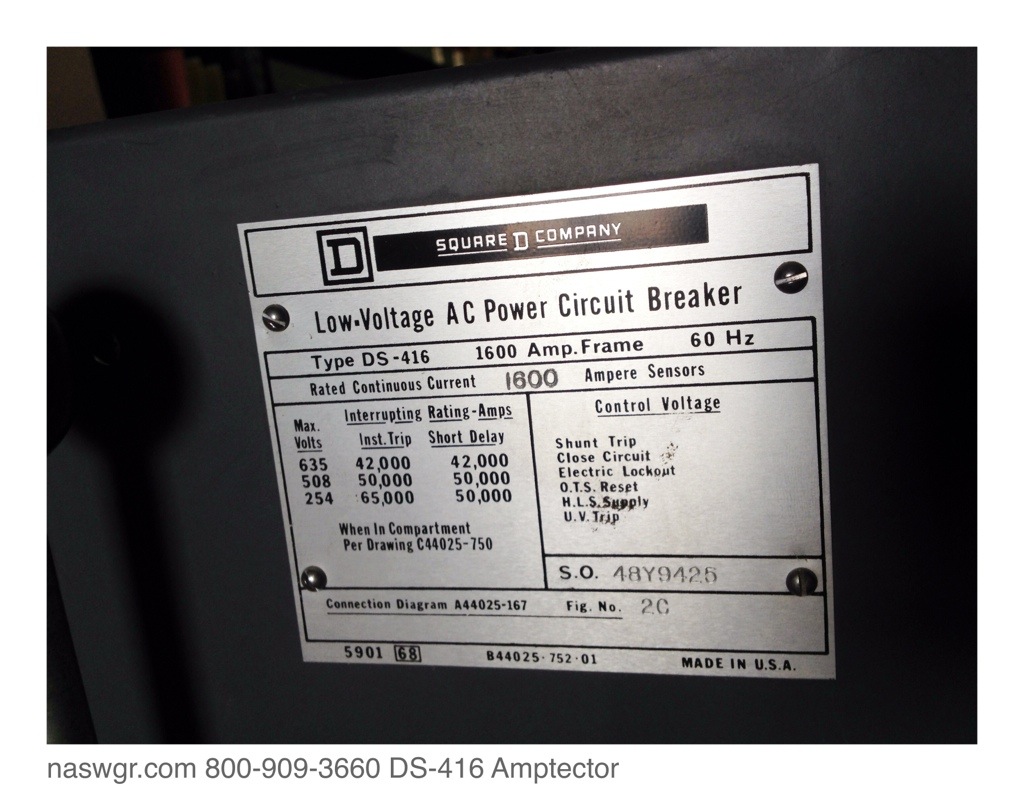 North American Switchgear is a proud Family owned and Operated business. Please keep us mind for all of your DS circuit breaker needs.
Thanks!
Don't forget we carry all of your DS-416 Renewal Parts
Part Description , DS-416
Upper Stud Assembly , 591C750G02
Additional Auxiliary Switch Assembly w/cover (rectangular) 2nd Aux. Switch , 697B536G08
Additional Auxiliary Switch Assembly w/cover (rectangular) 3rd Aux. Switch , 697B536G09
Amptector I-A Soild State Trip LI , 1233C97G01 , 6998D02G01
Amptector I-A Soild State Trip LIG , 1233C97G02 , 6998D02G02
Amptector I-A Soild State Trip LS , 1233C97G03 , 6998D02G03
Amptector I-A Soild State Trip LSG , 1233C97G04 , 6998D02G04
Amptector I-A Soild State Trip LSI , 1233C97G06 , 6998D02G06
Amptector I-A Soild State Trip LSIG , 1233C97G05 , 6998D02G05
Amptector II-A Soild State Trip DU , 6997D20G41
Amptector II-A Soild State Trip SE , 6997D20G42
Amptector II-A Soild State Trip TR , 6997D20G43
Anti-Pump Relay 120 60HZ , 8293A05G01 , 140D930H01
Anti-Pump Relay 125 DC , 8293A05G04 , 140D930H04
Anti-Pump Relay 240 60HZ , 8293A05G02 , 140D930H02
Anti-Pump Relay 250 DC , 8293A05G05 , 140D930G05
Anti-Pump Relay 48 DC , 8293A05G03 , 140D930H03
Arc Chute & Mounting Screw , 151D018G01
Arc Chute Kit (Group of 3) , 1A33568G02
Barrier Kit (Group of 4) , 1A33569G02
Barrier-Inner , 349A578H01
Barrier-Outer , 349A578H01
Breaker Front Covers for Digitrip II and Digitrip III , 349A578H01
Closing Spring Assembly , 791A671G02
Crank Arm w/ Roller , 786A586G01
Crank Kit , 3838A95G01
Current Sensor 100 AMP , 151D995G01
Current Sensor 1200 AMP , 151D995G12
Current Sensor 150 AMP , 151D995G15
Current Sensor 1600 AMP , 151D995G16
Current Sensor 200 AMP , 151D995G02
Current Sensor 300 AMP , 151D995G03
Current Sensor 400 AMP , 151D995G04
Current Sensor 50 AMP , 794A170G01
Current Sensor 600 AMP , 151D995G06
Current Sensor 800 AMP , 151D995G08
Direct Trip Actuator (DTA) for use with Amptector I-A Trip System , 6482C55G21
Direct Trip Actuator (DTA) for use with Digitrip Box , 6482C55G28
Direct Trip Actuator (DTA) for use with Digitrip II and Digitrip III , 6482C55G11
Elastic Stop Nut , 70220ERN18
Emergency Charge Device , 436B925G01
Emergency Charge Handle , 349A669G04
Emergency Charge Handle Kit (Electrically Operated) , 3838A96G02
Escutcheon Plate , 695C102H01
Fastner Kit , 3586A86G01
Insulating Link Assembly , 436B450G02
Latch Check Switch , 140D161G01
Lever (for motor cut-off switch) , 791A516H01
Levering Mechanism Assembly , 449D224G04
Levering-In Hand Crank , 8644C73G01
Lifting Yolk , 694C614G02
Lower Stud Assembly , 126D298G06
Main Disconnect Contact Assembly Kit , 1A333570G02 , 682C347G01
Main Drive Link Assembly (with Roller) , 437B146G03
Manual Charge Assembly , 591C385G01
Manual Charge Handle , 349A669G02
Manual Charge Handle Kit (Manually Operated) , 3838A96G01
Mechanism Assembly w/o Closing Spring (Electrically Operated) , 567F759G02
Mechanism Assembly w/o Closing Spring (Manually Operated) , 567F759G01
Molded Base , 553F204H01