AKR-4A-50
GE AKR-4A-50 Circuit Breaker
AKR Renewal Parts
GE AKR-4A-50 Reconditioning
NAS owns a vast array of a AKR circuit breakers. We carry almost every vintage and we stock loose parts and Switchgear. We can identify all the different vintages and can also update your breakers with new solid state trip units.
Our Class A Recondition is a top notch complete tear down and rebuild. All breaker parts are inspected, lubricated properly, re-plated, aligned and built back up with new hardware. For more information on our different options please visit www.naswgr.com
NAS meggers, ductors and test Class A Reconditioned AKR circuit breakers on our high current primary injection test set. We provide a complete test report and trouble shoot prior to reconditioning, and at the end of the process the breaker goes through a strict testing procedure before we put our final seal of approval on the breakers. You will love the final product. For over 34 years many customers around the world only trust NASWGR with their breakers.
Click here to view our AKR-4A-50 web-page
Our GE AKR-4A-50 Renewal Parts Page is linked in on the website.
Click here to see most of our GE Breakers that are in stock
800-909-3660 toll free
Email- sales@naswgr.com
216-402-0507 Michael Habeeb
216-570-2725 Mike Jordan
24/7 call/text
We also carry loose AKR parts at www.naswgr-store.com
Not all parts are listed, we are adding all the time so if you do not see what you need please email or call.
Best regards!
GE AKR everything at #NASWGR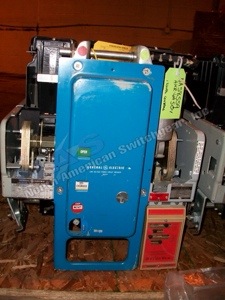 Just a shelf sample