Siemens WLS2A316 Circuit Breaker
Manually Operated, Drawout
3 pole
1600 amp
600 volt
50/60 Hz
LSIG trip functions
wiring diagram: CBIM-02000-204
North American Switchgear can provide these breakers Class A Reconditioned, Cleaned & Tested with warranty or just as-is. Replacement parts are also available.
Ask about our "Recondition Swapout Program"
NASG12918 , SNAS5710-1
North American Switchgear also stocks thousands of Siemens renewal parts for all WL and Siemens insulated breaker styles. Our website has extensive part lists with everything from the finger clusters and arc chutes all the way down to hardware and assembly kits.
Looking for renewal parts for your WL switchgear or replacing your existing WL gear? Well look no further! Call or request a quote for renewal parts or cubicles and our experienced, knowledgeable staff would be happy to give you a fast, competitive quote.
WL indoor gear
635 volt max
60Hz
3200 amp continuous current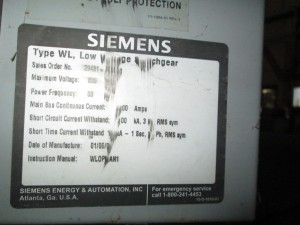 SNAS5710-1 , BLDG 6
To speak to a sales representative:
Phone: 800-909-3660 toll free
email: sales@naswgr.com
216-402-0507 , 216-570-2725  our 24/7 Emergency Lines
Thanks for reading our post today!